Georgia Guidestones explosion: Blast has 'destroyed a large portion' of monument, police say
Georgia says monument known as 'America's Stonehenge'
"Known as America's Stonehenge, this 19-foot-high monument displays a 10-part message espousing the conservation of mankind and future generations in 12 languages," according to a description on the state of Georgia's tourism website.
Update: The remainder of the Georgia Guidestones are currently being demolished following the mysterious explosion. Perpetrator(s) still unidentified. pic.twitter.com/umh3Ih83Oa

— Swani Files (@SwaniFiles) July 6, 2022
===================================================
The site is about 7 miles north of Elberton, near the South Carolina state line. Granite quarrying is a top local industry.
The roadside attraction received renewed attention during Georgia's May 24 gubernatorial primary when third-place Republican candidate Kandiss Taylor claimed the guidestones are satanic and made demolishing them part of her platform.
"The Guidestones also serve as an astronomical calendar, and every day at noon the sun shines through a narrow hole in the structure and illuminates the day's date on an engraving," the tourism website also said.
"The names of four ancient languages are inscribed on the sides near the top: Babylonian cuneiform, Classical Greek, Sanskrit, and Egyptian Hieroglyphics, it added.
"The Guidestones are mysterious in origin, for no one knows the identity of a group of sponsors who provided its specifications. [hi, hi, hi… md]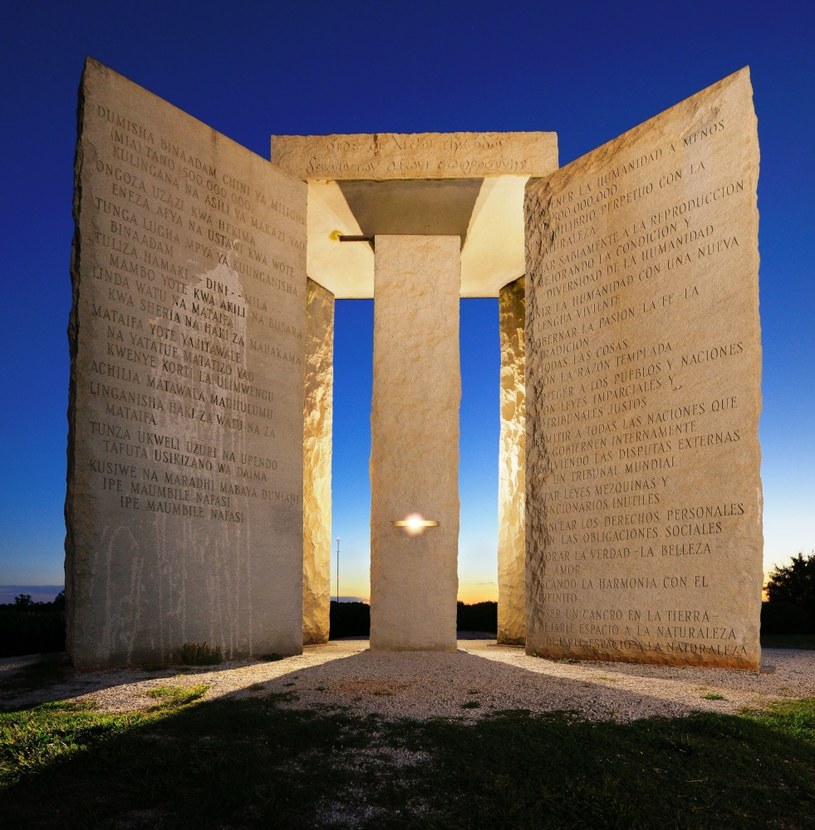 ==================
Całość przykryta jest [była] kolejną granitową płytą zawierającą krótką sentencję w językach wymarłych: babilońskim piśmie klinowym, starożytnej grece, sanskrycie i w egipskich hieroglifach:
Let these be guidestones to an Age of Reason [ 2 ]
(Niech będą to wskazania prowadzące ku Wiekowi Rozumu)
A shorter message appears on the four vertical surfaces of the capstone, again in a different language and script on each face. The explanatory tablet near the Guidestones identifies these languages/scripts as Babylonian Cuneiform (north), Classical Greek (east), Sanskrit (south), and Egyptian Hieroglyphics (west), and provides what is presumably an English translation: "Let these be guidestones to an age of reason."